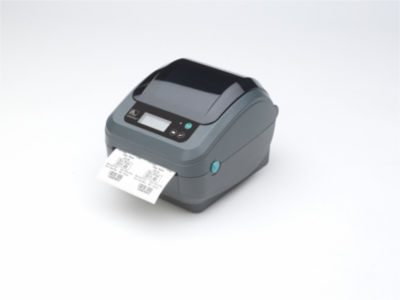 GK, GX, GC
Auto Calibration
By default an auto calibration is performed when the G series printer is turned on (if media is loaded) or after a media error is cleared. When it is auto calibrating, the printer sets the sensor levels for, and determines the length of, the label you are using.  Most of the time this process is all the printer needs to determine top of form (where the top of the next label starts) and prepare itself to print labels.
If, after the auto calibration, the status light flashes red, it means the printer was not able to determine top of form and a manual calibration will be needed.
Manual Calibration
Manual calibration is recommended whenever you are using pre-printed media or if the printer will not correctly auto calibrate.
Make sure media is loaded.
Turn on the printer power.  Wait for the printer to complete its boot process.
Press and hold the feed button until the green status LED flashes once, then twice. Release the feed button.
The printer will set the media sensor for the label backing being used. After it is done making this adjustment, the roll will automatically feed until a label is positioned at the print head.
A profile of the media sensor settings (similar to the example below) will print. Upon completion, the printer will save the new settings in memory and the printer is ready for normal operation.
Press the feed button. One entire blank label will feed. If this does not happen, try defaulting (refer to the four-flash sequence in "Feed Button Modes") and recalibrating the printer.
NOTE: Performing a manual calibration disables the auto calibration function. To return to auto calibration, default the printer by pressing and holding the feed button until the green status LED flashes four times then release the feed button.
There are other functions that can be completed by holding the feed button and counting the flashes on the status light.  Click here for the complete list.
Learn more about this topic at scansource.com >