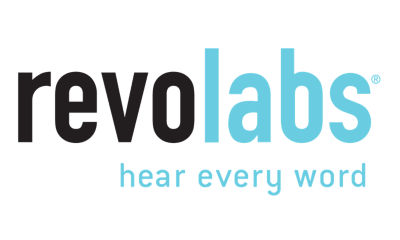 Introduction
Revolabs has a nice solution for ShoreTel Partners looking to deploy a medium-to-large conference room using wireless microphones.  Deploying this solution of products would remove the need to have a physical phone set in the room and adds the flexibility of putting microphones only where they are needed or spread out to cover all of the participants.
Target Market
The solution is appropriate for any customer with a medium- to large-sized conference room (8-10 seats and above), who does not want to deploy the IP 655 as a conference solution.  The solution discussed within also applies to small conference rooms and personal meeting spaces, but typically the smaller area in those environments can effectively be covered by a phone set.
Solution Products
ShoreTel Requirements:
1 available Analog Station (FXS) port on a ShoreGear Voice Switch
1 Extension Only or Extension and Mailbox License
Revolabs Requirements:
Fusion 4- or 8-channel System, includes wireless microphone charging station.
Microphones, up to 1 per channel on Fusion
Choose from Wearable, Tabletop – Omni, Tabletop – Directional, and XLR
Fusion Tabletop Dialer
Other Requirements:
External/Ceiling Speakers
Solution Summary
The analog extension off of the ShoreGear voice switch would need to be run to the conference room and a ShoreTel user with the appropriate Extension licensing (see ShoreTel Requirements) applied to the user.
The Revolabs Fusion product will then be installed in the room with the ShoreTel analog line and external/ceiling speakers connected to it.  The selected wireless microphones and the Tabletop Dialer would then be paired with the Fusion system.  The microphones would then be left in the microphone charging station.
As the conference room is used, the participants will move microphones from the charging station to the table, placing them appropriately to cover the speakers, and the Tabletop Dialer device would be used to dial the phone call.
More Information
For more information on ShoreTel or Revolabs products, or the solution described here, please contact ScanSource Communications at 877-847-7000.
Learn more about this topic at scansourcecommunications.com >